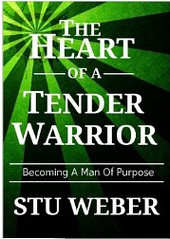 Men must stand tall and strong in an age of cynicism. In this 90-page adaptation of his 20yr bestseller, Tender Warrior, Stu Weber reestablishes a man's highest priorities in the pursuit of disciplined masculinity.

Publisher: Ano Zeteo Press
eBook only: ISBN 978-0-9880572-2-7
Download your eBook from one of
these or other fine book retailers


Learn More ↓
ENDORSEMENTS
"Stu Weber challenges us to be the men that God intended. For the sake of our wives, our children, and our nation, I hope that every American male will read and heed this memorable book."
DAN COATS
U.S. SENATOR, INDIANA
"Tender Warrior provides hope for men by challenging their assumptions and shaping their convictions. Read it. Devour it. Then live it. This is the time for real men to emerge."
DENNIS RAINEY
EXECUTIVE DIRECTOR, FAMILY LIFE
"I drank Budweiser, smoked Marlboros, and chased women.… Tender Warrior sent me deeper into my heart and soul. When I finished it I passed it on to a (sorry) friend, who was supposed to give it back, but passed it on to someone else (even sorrier). This book changed his life. It knocked down the walls around his heart. His response: 'The most important thing that has happened in my life started when you sent me that book.'"
A READER
BOOK SYNOPSIS
It takes a warrior to stand tall and strong in an age of cynicism. Today, Stu Weber's ringing affirmation of godly manhood reestablishes a man's highest priorities.

Brief chapters, salted with the author's stories, present the characteristics of tender warriors — including watching out for what lies ahead, keeping commitments, and learning to speak the language of women. In his warm yet straightforward style, Weber shows how a man's strength can be tempered with tenderness, grace, and submission to God's Son, the ultimate Tender Warrior.

This is an abridged 90-page version of Stu Weber's original 1993 bestseller "Tender Warrior" (over 750,000 copies sold).
TABLE OF CONTENTS
Chapter 1. Wake-Up Call
Chapter 2. The Scout
Chapter 3. Staying Power
Chapter 4. Beneath the Breastplate
Chapter 5. Under Orders
Chapter 6. The Aloneness Fighter
Chapter 7. Take Hold, Dad!
Chapter 8. Real Men Stand Together
Chapter 9. The Ultimate Tender Warrior
Take It to Heart
Notes
About the Author